Maja Wichtowski – President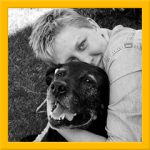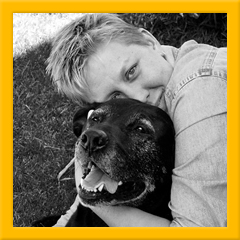 As a state registered veterinary technician, Maja has over 18 years of extensive experience in all fields of western veterinary medicine – oncology, orthopedics, internal medicine, dentistry, emergency/critical care, general practice, and canine rehabilitation.
After attending the Canine Rehabilitation Institute in Florida, she spent 2 years gaining valuable experience in the rehabilitation field, and preparing to open her own rehabilitation practice. "Tsavo's Canine Rehabilitation Center" finally opened in March 2006, and has successfully treated over 450 patients.
Carol Jones – General Manager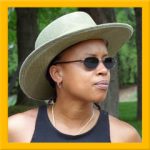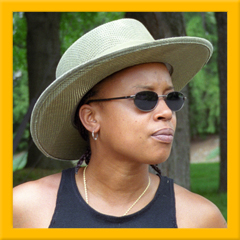 I have been the General Manager of Tsavo's Canine Rehabilitation Center for 5 yrs. Although originally from New York, I have resided in San Diego for the past 16 years.
I am mainly behind the scenes at Tsavo's and Dog Dreams Foundation, spending much of my time doing the detailed work necessary to keep them running smoothly.
With 27-plus years as an Executive Chef in the food service industry, I have an exceptional eye to detail and organizational skills, regularly overseeing large catering and fund raising events. As Vice President of Dog Dreams, I assist in following budgeting guidelines, reaching financial goals and ensuring total compliance of rules and regulations. I've known Maja Wichtowski, founder of Tsavo's, for 24yrs, and have seen first-hand her dedication and lifelong commitment to helping dogs in need. I have watched her take on countless patients whom other openly said, "it can't be done…a complete waste of time". I've heard her take one more client who was in desperate need and fit them in after already working a grueling 14hr day. Because of her enduring love and compassion for these beautiful kids, I have no doubt that it is my destiny, my duty and responsibility, to be part of something magnificent.
Dr. McIntosh DVM, Medical Director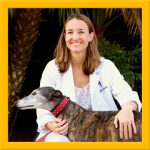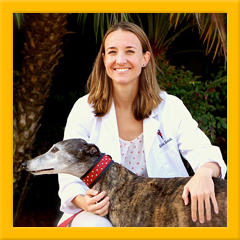 Dr. Meghan McIntosh grew up in southern California and is currently an Associate Veterinarian at Rancho Santa Fe Veterinary Hospital in Solana Beach. She received a Bachelor of Science in Molecular and Cellular Biology from Johns Hopkins University and earned a Veterinary Medicinae Doctorate degree (VMD) from the University of Pennsylvania School of Veterinary Medicine.
In addition, she completed a highly competitive rotating internship in small animal internal medicine, surgery, emergency and critical care at the New England Animal Medical Center in Boston.
Dr. McIntosh is honored to be a part of the Dog Dreams Foundation team, not only because she strongly believes in community outreach, but she is also aware of the financial limitations and stresses that non-profits face.
She has volunteered for various animal health and welfare organizations over the years such as the Native American Veterinary Services, Greyhound Pets of America, and Community Led Animal Welfare (CLAW) as part of the Vets-in-the-Wild Program through EcoLife Expeditions in South Africa. She would like to share her knowledge and expertise to help alleviate the cost of medical care, no matter how routine or advanced, that rescues are often faced with.
As part of the Dog Dreams Foundation team, rescues will more easily get placed in forever homes, doors to additional fostering opportunities will open, and more resources can become available for educational and community services.
She looks forward to playing a vital role in this beautiful cycle of healing and recovery. In her free time, Dr. McIntosh enjoys running marathons, hiking, reading, and devouring any type of dessert. She particularly enjoys greyhounds and has a goofy rescue named LeRoy.
—
"Be the person your dog thinks you are"
Meg McIntosh
Candace Stegall – Hydrotherapy Technician, Groomer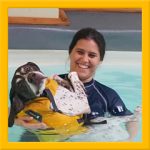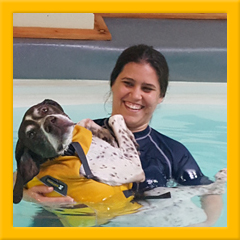 From childhood to professional adult life, Candace has immersed herself in the animal world. Always having a unique connection with nature, as a child she surrounded herself with dogs, cats, guinea pigs, birds and countless wild animals she met and played with each day; these she often tried to bring home as new family members. She began grooming for a local mobile grooming company in 2002 where she discovered her gift for helping people in the care of both their canine and feline friends.
She continued expanding her knowledge base by volunteering for animal shelters and a wildlife rehabilitation center. For a few years, she worked at a doggy daycare and boarding facility in North County learning much from the public, clients, as well as her experienced co-workers and employers. Until recently, Candace worked for 4 years with another mobile grooming company in Orange County. Wanting to work closer to her home in Carlsbad, the commute was ultimately the deciding factor in leaving. Now, finding a place at Tsavo's as both a groomer and aquatic therapy technician, she couldn't be happier.
In addition to her love of working with animals, Candace also has an interest in energy work and holistic healing and enjoys committing her spare time to fitness, healthy and cruelty-free eating and living, and gathering with friends and family. Whenever possible, travel and adventure are definitely on the agenda, from exploring new foreign places to trying her luck with the flying trapeze.
Amy Barnes – Hydrotherapy Technician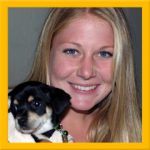 Amy is a lifelong lover of animals who strives to make a difference in the lives of animals who need it most. Her career began with a position as a kennel technician at Helen Woodward Animal Center in 2010. From there her experience has ranged from working with numerous exotic species to domestic dogs and cats. Her duties have ranged from animal care and husbandry, to medical to behavior and training. Amy is proud to be part of the Tsavo's family and devotes herself to giving each animal she encounters the best chance at a happy and healthy life.
Danielle Tadrous – Hydrotherapy Technician / Admin Assist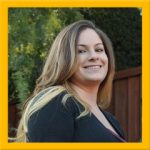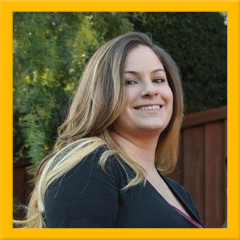 Danielle's passion for animals started at a young age while growing up in South Lake Tahoe. After moving to the Bay Area, she started volunteering & working full time with a dog rescue in Palo Alto. Danielle has over 10 years of experience in the administrative field, many of those years being in the Animal welfare industry, and working with non-profits. She is excited to apply all of her administrative skills with her devotion to help animals at Dog Dreams Foundation.
Shannon Fagerlund – BLS, AAT, CVT, Hydrotherapy Technician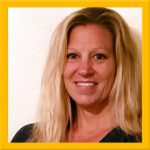 Shannon was born and raised in Iowa where her family still resides. She studied physical therapy/sports medicine, and after graduating from Iowa State, her interest to travel set in and she joined the Peace Corps, living in West Africa for about 3 ½ years. Not completely sure what to do upon her return home, she decided to move to Phoenix, to pursue her interest in human medicine, where she worked for a period of time at the Mayo Clinic. Once in Phoenix for a while, her love for tennis took over and she pursued certification as a teaching pro. She worked as a teaching pro as well as a high school coach for several years. She also joined Home Depot as a kitchen designer on the side. Here is where she adopted the first two senior pugs, Mugsey and Babs, who would forever endear the breed to her heart. Realizing she was happiest when with her dogs, and missing the medicine aspect of work, she decided to move to Denver to pursue a degree as a Veterinary Technician. She attended the Bel-Rea Institute for Veterinary Technology, graduating in 2009. She immediately started working at an ER and specialty hospital, realizing her passion for working in emergency settings and in the ICU. Here is where she adopted the infamous little pug, Gretel.
In 2011, she'd had enough of the snow and moved to San Diego for some beach and sun! She started working at Veterinary Specialty Hospital North County in the ER/ICU departments including several years working the overnight shifts. Almost two years ago, a friend reached out for some information regarding a paraplegic dog he had recently adopted. Shannon contacted several places in the area, and Maja reached out, not just with information, but a job offer she simply couldn't refuse. The vision of Dog Dreams Foundation that Maja discussed touched deeply into Shannon's love of helping rescue dogs, and so she joined Tsavo's to learn more about water therapy and rehab. She is beyond thrilled for the opportunity to continue the journey with the DDF and Tsavo's family as they grow.
Outside of work, Shannon enjoys the sunshine of Carlsbad…running, hiking, camping, hanging with her pup or just relaxing on the beach. Her little pug, Gretel, is a great travel buddy, who enjoys the adventures her mom takes her on!